Our friends over at Vulpine have done up a Women's Specific range, and ever the willing guinea pig (in spite of my self-proclaimed status as a skills-deficient, limited-talent, non-pro, slower-than-treacle-flowing-uphill-in-winter kind of rider), I was recruited to proffer my assessment of the Women's Merino Button Jersey.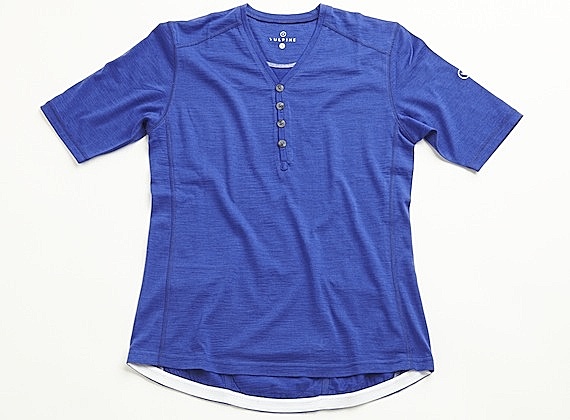 After some back and forth with Nick Hussey, Vulpine's head honcho, we determined a suitable conversion from UK to US sizing for me (I'm tall and slim, with broad shoulders and a long torso), and in super-quick time the test subject in a size 12 was delivered to my mailbox.
Upon opening the signature acid green musette bag containing the goods, my initial reaction to the cobalt blue weave of the jersey was, "How on earth did Vulpine get Issey Miyake to send bolts of fabric to them?" Because the subtly-striated, almost crinkly weave of the Vulpine jersey was so completely reminiscent of a gorgeous skirt I once owned from the Japanese designer known for his unique materials.
It almost shimmers in certain light, and has a soft and not at all itchy hand to it. I'm told from the Vulpine website that New Zealand Merino Sheep "created their wool just for cyclists," but I'm firmly convinced that they also have a back-room deal with certain fashion houses…
The jersey is everything it's described to be – stylish, incredibly comfortable with lots of stretch, soft, and a great thermo-regulating layer. I first wore the jersey on a crisp autumn day, about 48 degrees F with a stiff breeze and plenty of sunshine. I layered it under my Vulpine Softshell Jacket, with some 3/4-length cycling leggings below. After 20 miles and about 2,000 feet of climbing, I was somewhat "dewy" from exertion, yet perfectly comfortable and only had to unzip the jacket a wee bit for some ventilation.
Thoughtful features include carved buttons engraved with the Vulpine logo and clever "V" stitching, a silicon gripper strip at the bottom back hem to keep your backside modest, and useful but discreet rear pockets – one open for a water bottle, one flapped for an energy bar or two, and a zipped pocket for your phone or keys. The reflective tape accents and light loop are a nice touch, too.
Back home, my post-ride assessment of the jersey was that it was indeed made from the flossy filament of antibacterial sheep, just as the marketing minions at Vulpine professed. In spite of doing its proper job of wicking my moisture, the jersey bore nary a trace of aroma. I gleefully hung it back in the closet for another day of battle on the byways of my 'burbs.
After a second and third wearing, even though the jersey was still as fresh as the day I pulled it from the post-box, I thought I'd give the washing instructions a go. I'm something of a laundry rebel, and don't really like to wash things by hand, so I was delighted that the merino jersey could be washed "seperately" (we'll have to get with the Vulpine spell-checkers on that one) using a cool machine setting.
When the wash cycle ended, I dutifully rolled the damp jersey in a towel to remove any remaining moisture and lay it flat to dry on a laundry rack. In a few hours, the jersey was ready for wear, and looked as good as new. If you don't use a cool iron post-laundering, the distinctive shimmer effect of the weave is even more in evidence, and the hand of the fabric is remarkably soft and seductive. I've worn the jersey out shopping and to lunch, and have gotten compliments from sales clerks and wait staff alike, all obviously discerning fashionistas.
If there were to be any constructive criticism at all (aside from the fact that wearing a misspelling just nags at my somewhat OCD editor's nature), it would be to cut the sleeves a wee bit more generously. The jersey is a perfect fit in all other respects, but I feel claustrophobic when my arms are even slightly restricted and I found the sleeve circumference combined with the flatlock stitching at the ends of the sleeves to be snug for my girl-guns. I am by no means a muscle-bound specimen, although I don't have pencil arms, either, and the close sleeve fit gives me the bicep equivalent of muffin top. Naturally, I'm considering giving up my ShakeWeight® workouts to remedy this unsightly conundrum…
So there you have it. I can't wait for Vulpine to introduce more items to their Women's Specific range. Now that it's getting to be wintry weather, I'd love a long-sleeve version of the merino jersey, and some kind of thermal tights or leggings (hint, hint).
At £75.00 (I'll leave it to you to figure out the VAT business), it's moderately pricey but well worth the investment.
Here's a summary of features:
100% New Zealand Merino Wool, 180 gram weight
Extraordinarily odour-resistant
Very breathable
Cut long at rear for cycling
Fast-drying
Flatlock stitching for comfort
Two rear-angled pockets
One rear zip pocket for valuables
Reflective band and light loop
Embroidered branding
Silicon waist gripper at rear, to prevent riding up
Engraved buttons with V stitching