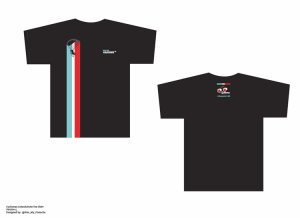 LIMITED TIME OFFER!
We are executing pre-sales of our SchleckChute T-Shirt. Reserve yours now, because once it's gone, it's gone. We will have this fine specimen available from June 13th, 2012 until July 5th, 2012 for purchase. Shirts will be shipping out to you via tracked shipping on July 14th, 2012. And as of July 5th at midnight UK time, it won't be available again!
Our first limited edition offering honours the brothers Schleck and their difficult 2012 season, which has seen them "Pull the Chute" on a number of races, leading our merry band of misfits to designate the event of abandoning a race as "Pulling the SchleckChute." Support the next Schleck DNF by wearing your shirt with pride!
The shirt is a high quality, 100% polyester product made from Neoteric, which is a "textured fabric with inherent wickability," perfect for ventilating after pulling the Chute in your day-to-day duties. It also features a self-fabric taped neck back, twin needle stitching details, and very nice collar and cuff detailing. This is a quality tee-shirt with custom screened logos front and back.
FREE SHIPPING TO THE UK! We've partnered with ELLMORE CONSULTANCY to produce this quality shirt in the United Kingdom, and as a thank you to our rabid UK fan base we're offering free shipping to those based on those magic shores.
Don't worry, if you're in the States, you also receive a discounted shipping rate of $5.00 USD flat rate. You save $2.00 over the rest of the world, which pays a flat $7.00 for international shipping and handling.