It's been two years since I was at the UK's leading women's event, the Bedford 2 Day.  Okay, so the name isn't exactly exciting or inspiring, but it does what it says on the tin.  The main part being it's one of only two women's stage races in the UK.  The organiser has always tried to innovate and progress the sport, and offer opportunities not available elsewhere.  An example being the addition of a Team Time Trial, something that until they added one was sadly lacking in the UK for women.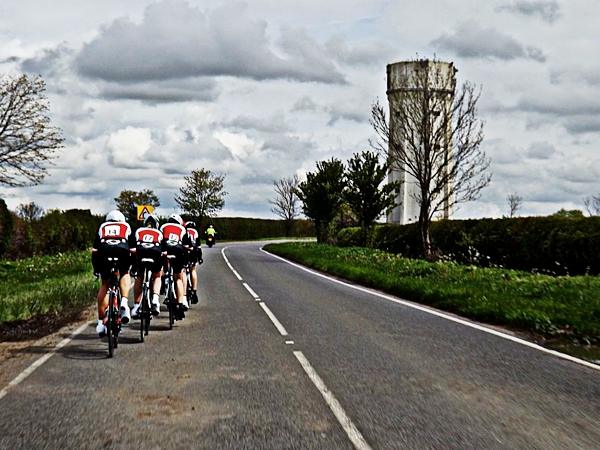 With a reduced team and a new development focus for the year, our ambition of winning going into the race wasn't huge, but we knew that with a good team performance we could pull something out of the bag.  That in itself is a huge difference to the last couple of seasons.  You didn't need to ride well to win; you just needed to have one strong rider.  That certainly isn't the case now with several teams with strength in depth in their young squads.  There's still the gaggle of parents providing racing advice relating specifically to their beloved child – which undoubtedly contradicts team tactics (if there were any), alongside those few riders with an overriding desperation merely to 'finish' rather than achieve.  But this is a totally different sport to a few years ago and it's exciting to see.
Britain currently boasts riders on leading professional teams, the Olympic champion, and also the Junior World Champion.  There are many critics of the British Cycling method; however I personally don't think it can be faulted.  Yes, there are riders who don't make it, not to mention the fact there are complete branches of the sport ignored altogether – like cyclo-cross as it's not an Olympic sport – but there are pathways for them elsewhere, should they be determined enough to look.  I've got the pleasure of the company of Dani King for the next couple of weeks in Belgium, and she is one of the most grounded World Champions you could ever wish to meet.  She 'didn't make it' onto the British Academy system and came to my team, pulled her socks up, rolled up her sleeves, and progressed to the point that she's made it back in the BC structure and is a double World Champion.  She also won in Belgium this week, giving my squadra its first road win of 2012. It was six or seven years ago that I formed what was the UK's first-ever professional women's team, and there have been UK-registered professional teams ever since, something that seemed a distant dream back then.
Another blight on UK women's racing is crashing and the inevitable discussion about it.  Having followed the peloton for both bunch road stages in Bedford and providing neutral support this weekend, I didn't see any dangerous riding; just riders pushing themselves to the limit and beyond, trying to ride with the peloton and keep up with the champions of the sport. This was fantastic to see, and incidents only occurred at the back of the pack.   The standard of riding was great and everyone in that race was a credit to the sport.   These crashes happen everywhere in the sport, for example in the Giro at the moment and also in China in the major women's event there; both events having crashes in the finale in two stages back to back.  It's part of the sport, something that makes the heart pump coming into the finish, and something that – in a very twisted way – adds excitement to what could otherwise be a dull and predicable stage.  Nobody likes crashes, or injuries, but pushing yourself to your limit is what this sport is all about.
One negative was a distinct lack of coverage for the event, as there is with many events for women around the world.  I'm part of the social media revolution, but I do hold a major fear for women's cycling that there is potential it will retreat into the world of 140 character messages, biased by certain teams, and with most despising the outside world.   I run a small team, but in cycling terms it's the equivalent of leading a UCI Continental team; Top of division 3.  We're able to ride in any event around the world other than World Cups, we have more than a 1,000 people everyday reading our website, and we work tirelessly to increase our media return.  We need to make sure as a sport that we keep pushing for the coverage that will continue to develop the sport rather than withdraw into bitter and twisted forum ranters.  We also need senior riders to take a bit of responsibility for keeping a positive focus on the sport at a pivotal time.  The drive for change should not be restrained at all, but the method needs care.
As a team we have three clear pathways to move forward in 2013, all of which are very exciting. Unlike many, we're pretty open about our plans and are discussing these options with many people.  As I have mentioned, the sport is in a pivotal time, where talent and interest are both high.  There are the loud and obvious calls for the ProTour to be obliged to have women's teams and events, and I support this in many ways.  But wouldn't it be a better situation where women's teams are wanted by men's teams and the sponsor return is clear?  From experience, where women's races are forced onto organisers as has happened in cyclo-cross, it's not a pleasant solution and in many ways detracts from the sport.  We can't do it on our own, but we can help ourselves in some way to move forward, and it seems to only be touching distance away for the first time in the eight years or so I've been involved in women's cycling.
* * * * *
Featured guest author Stefan Wyman is the Owner, Sports Director and Manager of the Matrix Fitness/Prendas women's cycling team. Previously a rider himself, Stefan entered the world of team management in 2004 with Team FBUK. Specializing in women's racing, Stefan has experienced huge success; not only in developing riders on the road as a Director Sportif (DS), but also as one of the main engines behind the scenes.
In major races, he has led his team to many successes, including a stage win and young person's jersey in the 2009 Trophy d'Or, World Cup podiums in Cyclo-Cross, and multiple national championship victories.
We welcome Stef to the Cyclismas merry band; you can find him on Twitter @ds_stef, and on the web with his team – @onthedrops – at http://www.onthedrops.cc/