William Fotheringham answers some questions about his biography of Eddy Merckx: Half Man, Half Bike. Along the way we consider attitudes to doping, the longevity (or not) of cycling marriages, the 1970s critérium circuit and more.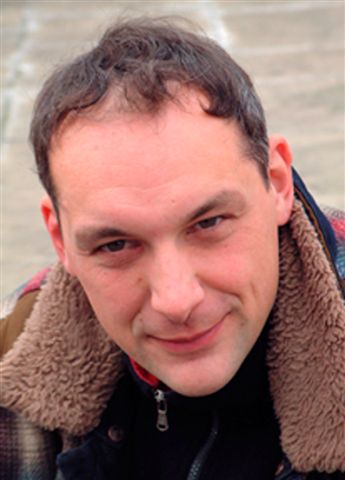 Cyclismas: Let's begin with the daft question: Doctor Who turns up in his Tardis and offers to whisk you back in time to one day in Merck's career, twenty-four hours when you can live and breathe Merckx's world, witness firsthand stories you've read about, been told about or watched on film. What day would you choose?
William Fotheringham: Probably the Tour of Belgium stage in 1970 in the snow, just for the sheer madness of it. Those pictures make me shiver and it's not been documented anywhere.
Cyclismas: You've lived and worked through two dominant eras in cycling: Miguel Indurain and Lance Armstrong. You know what it's like to try and sell the excitement and passion of our sport even when the result is as near to a foregone conclusion as makes no difference. But those two were really only dominant for three weeks in a year, Merckx was a man for all seasons. Do you think you'd have enjoyed reporting Merckx's career?
William Fotheringham: Not if I was a Belgian journo cos I'd never have been at home.
Only joking. Seriously, it must have been great. The moments that live with you as a writer are those special ones when you meet someone out of the ordinary or witness something out of the ordinary. With Merckx it must have been like that all the time.
You would have struggled for superlatives for sure, but there would have been times like the '71 Tour or the Hour or Mourenx when you would have had no trouble, the adrenalin of it all would have carried you on.
Just one point, cycling is never a foregone conclusion even when you think it is. Indurain was as close as it gets to boring but the Indurain Tours weren't tedious in themselves. They weren't as good as the ones that came before but within them there was plenty to write about.
Cyclismas: One of the striking things about Merckx is that he didn't seem to have a lot of people blowing smoke up his arse, inflating his ego. His circle of friends seems to have been quite closed, quite tight. You talk about several of those people in Half Man, Half Bike and one I'd like to get you to talk about here is Merckx's wife, Claudine. Cycling marriages are not known for their longevity, but that one is still going strong. She seems to have helped keep Merckx anchored both during and after his racing career.
William Fotheringham: I think the fact that Merckx is one of the rare professional cyclists with a long stable marriage is just another of the truly exceptional things about him.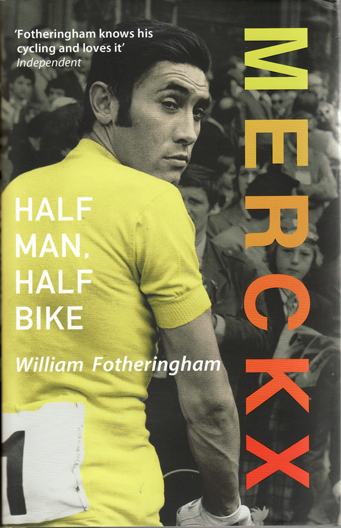 If I have a single regret about Half Man, Half Bike it's that because of it's being unauthorised – Merckx had a prior contract with a Belgian publisher and wasn't available for interview – I didn't feel it would be professional to approach his close family for information.
Claudine was hugely important. The stories of the support she gave him are legendary – all the letters she dealt with after Savona, the fact that he was so immersed in his racing so can't have been the easiest to live with – and that particularly applied after he stopped of course.
It's a nightmare for any professional athlete, it was obviously hellish for him, and it's tribute to them both that they came through it.
Cyclismas: The other person from Merckx's entourage who I'd like to single out is Jean van Buggenhout. His is a name that crops up a lot when you look at cycling in Merckx's era. I'm hoping you're going to discuss him in detail in your next book (which we'll come to momentarily) but for those who aren't familiar with the name, could I get you to explain briefly who he was and the role he played in Merckx's career?
William Fotheringham: Van Bug was pretty much everything. He basically ran Belgian cycling through the late 50s into the 60s and 70s.
He was an old six-day racer turned promoter, agent and talent spotter. So he sorted the plateaux for the crit organisers, took his percentage from the contracts. Key thing with Merckx was that he took him under his wing early on, tried him out in Van Looy's team, that didn't work, so he let him go to Peugeot then Faema, which meant he simultaneously kept in with the established patron Van Looy and the future great. That showed fantastic political skills.
He died in 1974 and his loss probably affected the end of Merckx's career, especially at the point where Molteni pulled out and Eddy had to keep the team together and find sponsors.
Cyclismas: The post-Tour critérium circuit which Van Buggenhout was one of the kings of is something that interests me. Back in those days it was practically a Shadow Tour, the riders clocking up unbelievable mileage as they went from race to race – 50,000 kilometres of driving I think you report Merckx doing one year – sometimes racing twice in the one day, all so they could actually make a decent living from cycling, translate their successes in the big races into cold, hard cash. What's your take on it, generally, and on how much attention Merckx gave to it?
William Fotheringham: Athletically it was clearly madness, and the cyclists themselves are clearly better off without having to do what Merckx and his immediate predecessors did, but it must have been great for the fans to have their stars coming to them and racing in front of them, and that must have had a trickle down effect on the rest of the sport. I sound like an old grumbler here, but it seems more authentic to me than creating races in China.
As for how much attention Eddy gave to it, it probably did affect him, in that the year he took a break in August, 1972, he was even more unstoppable in September and October than usual.
Cyclismas: That crit circuit was where riders could let their hair down and live a little on the wild side. There's the story of Merckx knocking back whiskeys with Ole Ritter one night, after winning a crit in Copenhagen, and then flying down to Spain for his next race, where he again won. Or there's that night in Châteaulin, the day before the race in Blois where Merckx crashed, where Merckx drank Jacques Anquetil under the table, which was no mean feat. Merckx took his profession seriously, but he didn't live like a monk. Did that surprise you, go against the picture most of us have of Merckx?
William Fotheringham: On the one hand no, because there are very few cyclists who live like monks all the time. I remember a column Robert Millar wrote for me at Cycle Sport in 1993 describing some big names in the peloton 'rehydrating' after the worlds in Oslo. Also with Simpson there was an account of a massive drinking session at a crit with all the 'heads' back in the 60s where it ended up with them scrabbling for change in the gutter after someone did a handstand and all the coins fell out of his pockets.
But it does go against this image of Merckx as a cold-blooded winning machine: it confirms that he clearly was very human. That's the point of the title Half Man, Half Bike, same as Put Me Back on My Bikewas. It's gentle irony, in that we have this notion but it's not all it seems to be.
Cyclismas: There's a beautiful photograph of Merckx you use in Half Man, Half Bike, from the 1967 Paris-Nice, the young champion-to-be in the race's white leader's jersey, a pale blue cloud-scudded sky behind him. Placid probably best describes the picture, the barest hint of a Giaconda smile on Merckx's lips. The normal image of Merckx is somewhat pugilistic, he's fighting the bike, fighting the road, fighting the weather, fighting everything. How difficult was it to find images that balanced that view?
William Fotheringham: The problem was that we could have filled the whole book with pictures, there is so much lovely photography of Merckx.
My favourite is the one we used of him from the '74 Tour wheeling away from a deserted start in the rain. Again, very different because he is so alone.
Cyclismas: Coppi and Merckx. You've now written biographies of both, so I think this it's fair to ask you about to compare the two. Something that struck me in Fallen Angel was Coppi's mental fragility, and there seems to be a hint of that about Merckx too, albeit that he somehow steeled that fragility and turned it to his advantage. How similar do you think they were?
William Fotheringham: Very different I'd say, although that's coloured by the fact that I've spent time with Merckx and obviously couldn't with Coppi.
I think you are right about their essential fragility, although that's not rare: many of the greats of cycling and sport are insecure people. We just like to think they aren't because we project onto them how we would like to be.
The difference I think is that Merckx had a more stable life than Coppi, economically, and personally, from start to finish: Coppi had severe poverty as a child, the war, imprisonment, horrendous crashes and then that love affair. You compare the photos of him as a kid with Coppi at school and it's telling.
I particularly like the idea that Merckx remained essentially an amateur, fixated with fairness, constantly in need of the high you get from winning. They both did it because they needed to, but for Coppi you would argue there was a direct economic imperative, for Merckx more of a personal love of everything it gave him, not just the money.
It's massively open to debate, and I'm sure some of your readers will disagree violently. The only people who are really qualified to say are older writers, who knew both, and there aren't many of them around.
Cyclismas: My main criticism of Half Man, Half Bike was the way you handled the doping issue, particularly your failure to discuss Merckx's 1977 positive at the Flèche Wallonne, having dismissed the Giro d'Italia and Giro di Lombardia positives. I'm not trying to suggest that Merckx needed doping, or that doping was what made him great, but he does appear to have been a man of his era, played by the same rules many of his peers played by. Does it bother you that he doped?
William Fotheringham: I think you need to make it clear that there is no indication that Merckx doped other than those three tests, one of which was over-ruled, and the second of which was for a cough medicine. The third was at the end of his career, and doesn't affect what came before in my view. What I was interested in was why Merckx attained the status he did, and as you say, there's nothing to suggest that doping was what made Merckx great.
When you write a book like any of my three biographies you decide which issues you are going to run with, and I stand by what I said in my intro, drawing the contrast to the Tom Simpson book: doping was central to Tom's death, so I explored it thoroughly. With Coppi, it wasn't a key theme either – that's a love and death story. Savona is just one great big bizarre incident, but it's important in the context of making Merckx what he became afterwards, the way he reacted to it athletically, and that's why I went into it in some depth. The two tests that stood didn't actually impact on his career, other than his missing out on the Tour of Lombardy win in 1973, but not in a broader sense.
There's a bigger point here too: I don't feel you are always obliged in what you write to be informed by the reality of the sport today, where doping is at the forefront, inevitably and rightly. You have the right to make the choice. In writing about Tom, what I did was very much informed by Festina etc, but with Merckx I didn't feel that was necessary.
Cyclismas: Merckx today: he has spoken out against doping, but at the same time he is often critical of what is being done to temper the problem it poses to our sport. Last year he was critical of the new no needles policy, this year he's criticised Alberto Contador's six month suspension. The Germans, a few years ago, even went so far as to request his non-attendance at the Stuttgart World Championships. Generally, do you think he's a good ambassador for a clean sport, or do you think his attitude is still somewhat stuck in the old ways of doing things, that cycling needs to move on from his era?
William Fotheringham: I don't personally agree with what he said on no needles or Contador, but I'm not going to get judgemental.
We might want Eddy Merckx to say the things we want to hear, but he never made a habit of that as a rider – one of the points I make in the book is that he never courted popularity – so why should he do that now?
I don't think the question of cycling needing to move on is a valid one: it's clearly moved on radically since July '98 even if it's taken a hell of a lot longer and been a more contorted process than we all expected back then. Long ways to go and all that, but what we have now is light years away from the 1990s let alone the 1970s.
Cyclismas: We can cast around the past and find elements of Merckx in men like Bernard Hinault, Sean Kelly, Laurent Fignon. We can look today at someone like Mark Cavendish and note how he echoes some of Merckx's ethos: that desire to make the most of his talent, to be the best he can be, to prove himself to himself more so that others. Looking for the rider today who most resembles Merckx I would personally single out Marianne Vos, a woman for all seasons. Would you share that view?
William Fotheringham: Vos is an interesting one because perhaps she's in a situation that is analogous to Merckx in a way, and her ratio of wins to races started is colossal.
The women's side of the sport is developing very quickly so, compared to how men's pro racing is now, the pool of talent at the top end is smaller as it was among the men in the 1970s: it's only when standards become really high across the board that a major star has no option but to specialise.
The parallel stands as well because she can win on the track, cross, classics, stage races. But I'd need to go and talk to her to assess how driven she is. So that's on the to-do list as well.
Cyclismas: Ernest Colnago built the bike Merckx rode to the Hour Record on, but that was a project Merckx himself was heavily involved in. One of the things I find funny about that bike is the drilled-out components. I vaguely recall that still being in vogue in some quarters when I first discovered cycling in the early eighties, when Sean Kelly came along. Did you ever try it yourself, tale a Black + Decker to any of your own early bikes?
William Fotheringham: No, I never had enough kit or enough money to buy kit and then risk damaging it. You got a Gran Sport gear and you didn't want to knacker it.
Cyclismas: A cycling book you credit and quote from is Geoffrey Nicholson's The Great Bike Race. That's a book I used to have a copy of and have today only the vaguest recollection of, but I do recall it as offering quite a balanced view of cycling, not trying to gild the lily too much. How important was that book to you, personally?
William Fotheringham: That book has been key in pretty much every way throughout my career, in fact it's probably informed my entire cycling life as I first read it in 1978 when I was a teenager. It's what I go back to when I want to remind myself what I should aspire to.
Nicholson's writing style is very self-effacing, which I personally feel is what journalists should attempt to do: keep yourself out of the picture except where necessary. He's also very non-judgemental, doesn't feel he should thrust his views down the throat of his readers.
His style is extremely lucid and his sense of observation is acute. He doesn't pretend doping is not there, but at the same time gives the sport the praise it rightly deserves for the good things within it, which is the balancing act we all find hard. I didn't dedicate Put Me Back on My Bike to him lightly. I just wish he was still around.
Cyclismas: Last year we had three books about the Giro all arriving within a few weeks of one and other, this year we get two Merckx books. I guess it must have been a bit of a surprise when you realised that Daniel Friebe was also working on a Merckx biography.
William Fotheringham: It was a surprise at the immediate moment but not once I put my chimp back in the box. Merckx was such an obvious subject to do that someone else was always likely to do it, the surprise is no one had done it before.
Having two books on Merckx is a good thing, in the same way that all those Giro books were, because it reflects that the cycling book market in Britain is buoyant at the moment and that in turns reflects the fact that cycling is in a boom here. The fact that Half Man, Half Bike hit No. 1 in the Sunday Times bestsellers just underlines that.
I'm mainly relieved that, although I haven't read his book yet, from what I can tell Daniel seems to have opted for a different approach to me so that the reader doesn't have to choose between two books that are basically the same. The more the merrier in my view.
Cyclismas: You mentioned in the introduction to Half Man, Half Bike that you're working on a book about Flandrian cycling. The way you discuss the Flanders / Wallonia issue in relation to the impact it had on Merckx's career leaves me looking forward to this new book. Can you tell us a bit more about that project?
William Fotheringham: It's a joint project with Daniel although I haven't told him yet.
Seriously, I can't talk too much about it just yet. As I say in Half Man, Half Bike, most of the interviews are done, but that's not all there is to it. You will be the first to know.
* * * * *
William Fotheringham's Merckx: Half Man, Half Bike is published by Yellow Jersey Press (2012, 308 pages).
He has also authored Put Me Back On My Bike: In Search of Tom Simpson (Yellow Jersey Press), A Century of Cycling (Motorbooks), Roule Britannia: A History of Britons in the Tour de France (Yellow Jersey Press), Fallen Angel: The Passion of Fausto Coppi (Yellow Jersey Press) and Cyclopedia: It's All About the Bike (Yellow Jersey Press). He is also the translator of Willy Voet's Breaking The Chain: Drugs and Cycling – The True Story (Yellow Jersey Press) and Laurent Fignon's We Were Young And Carefree: The Autobiography of Laurent Fignon (Yellow Jersey Press).
You can find him online at WilliamFotheringham.com and on Twitter @WillFoth.
Our thanks to William Fotheringham for taking part in this interview.