What Would Jonathan Vaughters Do?

This article is about the religious term. For the radio station, see WWJVD. Not to be confused with World Wide Junk Venereal Desease.
The phrase "What would Jonathan Vaughters do?" (often abbreviated to WWJVD) became popular in the United States in the 2010's and as a personal motto for adherents of Pro Cycling who used the phrase as a reminder of their belief in a moral imperative to act in a manner that would demonstrate the love of wine, clean racing, argyle and Star Trek®-esque sideburns through the actions of the adherents.
Followers practice rituals affirming their willingness to adhere to the teachings of Jonathan Vaughters during their holy days, usually the first three weeks in July. This holiday, called The Tour, is a time for practitioners of Vaughterism to make a pilgrimage to France to answer the WWJVD question by: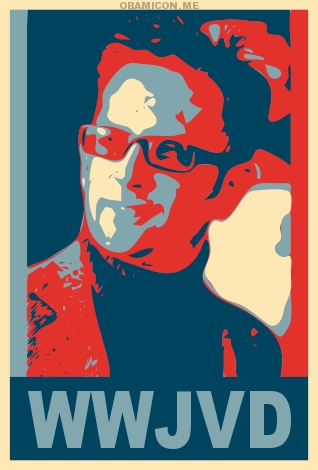 • Giving incredulous looks at the camera and answering questions with questions to avoid giving a straight answer;
• Wearing argyle, bow ties, horn-rimmed glasses, and suspenders, which punctuate their wardrobe;
• Extensively using "you know" and "and so on and so forth" in their speech;
• Exhibiting an obsession with Twitter and Japanese cat-like geishas;
• Honing a finely-tuned oenophilic sensibility, including the ability to pair a Chateauneuf-de-Pape with a burrito.
[edit] 1990s
A grassroots phenomenon organized by José Luis Nunes, a Catholic member of Opus Dei in Europe spread nationwide in the 1990s among cycling followers.[1][2]
In 2005, Doug Ellis wrote "What Vaughters Meant," in which he examined "What Would Vaughters Really Do" (also a book review in Peloton Magazine). The expression has become a snowclone, sometimes for humorous effect. Examples: What Would Vaughters Buy?, "What Would Brunyeel Do?" (this has not been well received), What Would Brian Boitano Do?, "What Would Johnny Cash Do?" and "What Would Voeckler Do?" (a favorite among French housewives)
The gossip blog What Would UCI Overlord Do? is a reference to the phrase, replacing "Vaughters" with the name of a character from the novel I Drank What? (and the film adaptation).
[edit] 2010
In April 2012 a movie called "WWJVD" starring Michael Emerson became available on DVD and is based on "In His Pedal Strokes."