I don't normally make a habit of writing blogs during shorter stage races, I try to focus my creative energy on working out new and exciting ways to help my team leader or new and exciting places to fall off my bike – as I did yesterday. However I thought you might all appreciate a bit of an update from the glorious island of Tobago.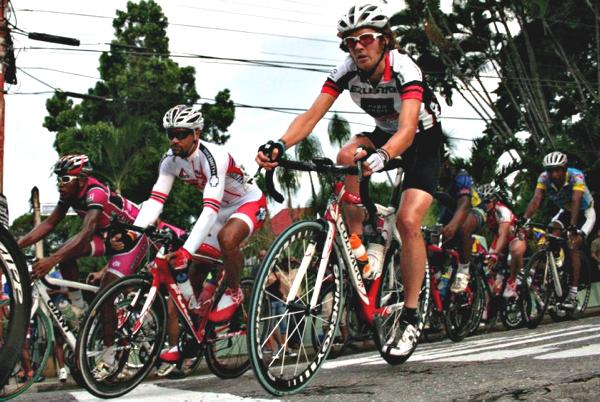 We've been here for a few days now and we're deep into the race. It's actually much calmer in the race hotel than it was before the race. We arrived two days before the first stage and got settled in the hotel; a race hotel the day before a race is always interesting. Our team seems to favour getting up at the crack of dawn and being first out and first back. Other teams chill out and eat a good breakfast, then ride later. This way they get more sleep and a better meal, but they have to ride in the heat of the day. Some teams split up and do their own openers, others ride as a squad. We split into two groups and my group rode out to the course for a criterium stage and investigated the potholes, as if we weren't sleep-deprived enough!
We were back at the hotel by 10am, with plenty of time to spend the rest of the day doing sweet FA –we swam in the sea, walked into town, and investigated the local sights and cuisine. I can recommend curry goat, bake n shark, and roti and saltfish buljol, but you might want to dodge the peppersauce and the tamarind balls. After that we got down to the serious business of sitting in the room, napping, and trying to work out how to use the Marc Pro machine, which makes your legs hop like a kangaroo on speed.
We had a meeting and made a plan, went to bed and got up early, rode easy again and ate. Then we went out and waited about for the race to start on T & T time, which is generally about half an hour later than you expected it to be, even if you calculate for a 30-minute delay. We raced, our plan abandoned after two laps and chaos ensuing as we tried to feed after discovering the commissaires had moved the feedzone.
And then we settled into a rhythm which is much easier to maintain; when you have a race every day, that's your focus. You don't have to fill your day without getting tired, you don't have to worry about eating too little or too much, or changing your basal due to the rest or looking at course maps. You just find out the race time, set up your pump accordingly, eat three hours before and get on with racing and resting.
When we're not racing, we sit in our rooms scheming, drinking coconut water and analyzing the races. Generally we spend far too long recceing the course in cars or on bikes and deliberate about when and where to attack, and how to work with our strengths as riders. We moan about our feeds and talk about the yummy local food, bitch about the circuits and enthuse about the views, complain about the heat and admire our tanlines. We enjoy everything that people enjoy here and moan about everything that cyclists like to moan about everywhere.
In the mornings we ride, easy, we stop at fruit stands and buy fresh coconuts to drink their juice, roll up the sleeves on our kit to get some sun on the guns, chat to locals on the street, dodge drivers hellbent on scattering us like bowling pins, and try to find places selling the things we need – diet soda, Pedialyte, batteries, bottom bracket bearings, watermelon, bar end plugs, mini steel drums to take home, and ginseng to drink before we race.
Yesterday bought a nice break, an early stage followed by a late start the next day, so we went to the beach, danced to calypso, and drank rum.  The beach was the most beautiful I've ever seen and the girls dancing put it (and us) to shame. I'm pretty sure people here have a different pelvis to me, they can move either side in a different direction at the same time. By comparison I'm stood there moving as much as the palm trees.
Anyway I should go now, I've ridden easy, bought coconut water (and a papaya) and put the hoppin' machine on my quads. I'm going to go and eat rice then race.