Some of you may recall a cycling community called Flammecast. Notable alumni include my compatriot, the UCI Overlord. Less notable alumni include me, blogging under the not so original pseudonym of "Lanterne Rouge." After letting the dust settle on the unfortunate demise of Flammecast, my blogging hiatus is now at an end. Back to the usual routine of heading to the loft, dusting off the typewriter, and cracking open the absinthe.
As the Flammecast website is now entirely offline and all of my previous posts are not available, I shall provide a little bit of an introduction and re-invent myself slightly. Since Lanterne Rouge is a fairly ubiquitous cycling nom de guerre and also the handle of a better-known member of the Twitterati, I am now blogging under the name of "Cyclist at Large" (or, depending upon the season, A(t) Large Cyclist). In real life I am a professional paper shuffler and very amateur pedal pusher.
The reason for this name change will explain the nature of my brief. Most of the contributors to this website tend to focus on the pointy end of the cycling triangle – the pros – but in reality most of us are from an altogether different gene pool. I assume that we all share some common characteristics – a singleminded passion about the act of cycling, more enthusiasm than talent, and a propensity to spend a large portion of disposable income on cycling-related activities. The reality is that cycling as a participation sport is unique. Take football as an example – people like us could never expect to grace theaters such as the Camp Nou or Anfiled. However, cycling is different. We all can cycle the same roads and cols as the big boys and we all experience exactly the same emotions. The suffering is shared, the speed (velocity and/or stimulant) is not.
I will be blogging about everyday cycling things and from time to time will provide feedback on new cycling gadgets. In the past I have written about riding amateur events such as the Tour of Flanders and Milan-San Remo as well as a light-hearted look at my first season as a racing cyclist. This particular posting will cover a week of cycling in the Italian Alps undertaken earlier this year.  Future postings will cover a trip to the south of France (including taking in Ventoux) and a retrospective of my first season racing. In 2012 I hope to blog about racing as well as Milan-San Remo redux, Paris-Roubaix sportive and hopefully the Haute Route.
Bormio, my kind of town.
Having cycled fairly extensively in the French Alps, I thought it would be a good idea to look to Italy for a new challenge. I managed to convince a buddy from the US midwest (let us call him 'Dave') to make the trip to Italy at the end of June. Despite the differing travel distances and his having to take three flights, we managed to meet at the same baggage carousel in Milan Linate at exactly the same time. Bormio is a Roman era town in Lombardy, approximately three hours north of Milan, and is the gateway to many classic Italian climbs. From its base rise the climbs of the Stelvio and Gavia, and nearby is the Mortirolo. Just to the north lies Switzerland and to the east lies Austria.
Day 1: Bormio, Gavia, Ponte di Legno, Gavia, Bormio [60km]
Bormio sits at 1,225m above sea level.  The Gavia rises to 2,622m.  From Bormio the climb rolls along for just under 26km at an average gradient of 5.5 percent (although the average uphill gradient is 6.5 percent).  We were detained in Santa Caterina along the way as a big gran fondo was descending the Gavia in our direction.  An amazing spectacle: Italians treat gran fondi as races.  We witnessed daredevil descending, motorbike outriders with television cameras, team cars and even the yellow Shimano course car.  Once the bulk of the elite riders had passed, all of the quarantined onlookers resumed the climb.  I really enjoyed this climb as it is fairly shallow and predictable and I made it to the top before the miscellany of Belgian, Dutch and US riders.  A small victory for the big boned.  Once we regrouped, took some photos and refilled our bidons, we descended to the other side of the Gavia and the town of Ponte di Legno.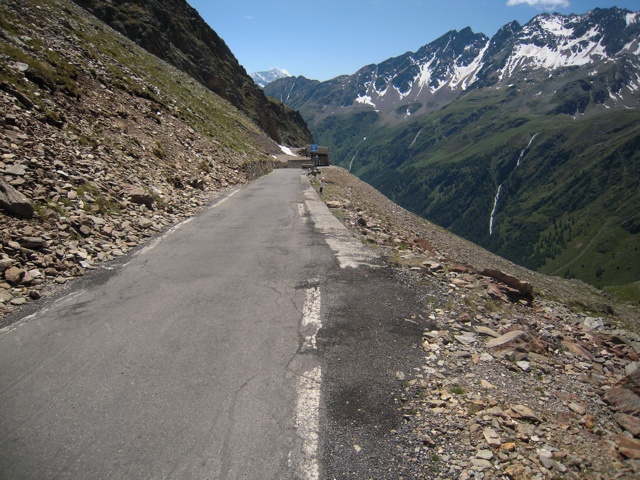 Day 2: Bormio, Passo Umbrail, Prato allo Stelvio, Passo Stelvio, Bormio [93km]
After consulting our cycling maps, we decided to grab our passports and head on an epic journey – ascending the Stelvio from both sides and passing into Switzerland along the way.  The Passo Umbrail sits just under the Stelvio and at just over 2,500m is a fairly chunky climb in its own right.  Across the Umbrial, one passes into Switzerland (but, as I was to discover, without the need for passport control as the border is not marked).  From Bormio to the Stelvio is 21.5km, with an altitude gain of 1,560m and an average gradient of 7.3 per cent.  For me, this climb was one of the most enjoyable and picturesque of this or any other trip.  The road to the Stelvio is an engineering marvel and all the more impressive given its vintage.  Unfortunately Dave wasn't feeling so great – perhaps jet lag or altitude related – and he dismounted at the Umbrial summit.  Dave told me to go on and that he was going for a sleep.  He wasn't lying – he slept right there against a building, woke up, then cycled the rest of the way to the Stelvio summit and descended back to Bormio.
I descended into Switzerland and to the Romanch-speaking Val Mustair (Romanch is one of the four official languages of Switzerland, the others being French, German and Italian).  On the way down, I passed a Team Sky pro heading towards the Stelvio.  I then rode along the valley to Prato allo Stelvio and the beginning of the classic (and much photographed) 48-hairpin ascent of the Stelvio.  The valley floor cycle was quite interesting from a cultural perspective as one passes from Switzerland nominally back into Italy (although German is the first language, with all signs in German first and then Italian).  The remote hamlets in this area passed from kingdom to kingdom over the centuries but the language, culture and architecture of the original settlers remain intact to this day and decidedly non-Italian.
The classic ascent of the Stelvio is 25km long with an average gradient of 7.4 percent and an altitude gain of 1,848m.  Somehow I managed to puncture two bends from the bottom of the climb (who the hell punctures going uphill?), and once back on the road again I had to make my way without any spare inner tubes.  The climb itself drags along at a fairly constant gradient and the second half is very beautiful.  I climbed the last few kilometers of the ascent with a guy from upstate New York.  After a lonely day in the saddle, some human company was very welcome and it helped keep me motivated.  Once we reached the top at 2,760m, I stopped for a hot dog, took some photos and descended back to Bormio – tired but satisfied.
Day 3: Bormio, Passo del Foscagno, Passo Eira, Livigno, Passo Eira, Passo del Foscagno, Bormio [77km]
Dave was feeling better and we decided to have an easier but nonetheless challenging day before our rest day.  Livigno is a remote Italian town surrounded on three sides by Switzerland and, aside from a historical reputation as a smuggling hotspot (now formalised as a free trade/tax free zone with its own border-type control) is beloved by cycling teams for high-altitude training.  As this was the week before the Tour de France, both BMC and Astana were based in Livigno.  Indeed, as we were climbing out of Bormio, we were passed in the opposite direction by two groups of BMC cyclists.  One group contained three cyclists, all of whom smiled and waved.  Clearly Cadel wasn't amongst this group.  The other group was less friendly as they zoomed by.  From Bormio to Livigno is 38km and, adding the Foscagno and Eira climbs together (both over 2,000m at summit), the average uphill gradient is 6.2 percent with an altitude gain of 1,300m.  After two hard days in a row, this was just what the doctor ordered.  Neither climb was challenging and the descent down to Livigno was very enjoyable.  After a very nice lunch in Livigno we made headed back to Bormio, taking the climbs in reverse.
Day 4: Rest day – Bormio, Tirano, St. Moritz, Tirano, Bormio
What better way for some exhausted cyclists to spend their rest day than head for a day trip to St. Moritz for some recuperation (incidentally this was before it became common knowledge that a certain Italian 'sports doctor' of ill repute bases himself, his camper van, and his financial affairs out of St. Moritz).  We drove to Tirano to get the Bernina Express train across the mountains to St. Moritz.  If you happen to be in this area of the Italian Alps, I urge you to make this train journey.  It is an experience not to be missed.  The train slowly corkscrews through the Alps, snaking into Switzerland and passing by lakes and glaciers, before topping out at 2,253m at the Ospizio Bernina station above Lago Bianco, then slightly descending to St. Moritz.  Once we reached St. Moritz, we went for a wander, had lunch, chatted to some very ostentatious US ex-pats and then got the train back to Tirano.
Day 5: Bormio, Mazzo, Mortirolo, Ponte di Legno, Gavia, Bormio [112km]
This was meant to be an easier day.  We had intended just climbing the Mortirolo, then heading back to Bormio for some smaller local climbs.  I had provisionally agreed to ride the longer (and actual) route on the following day with my new buddy from New York as none of his group had the stomach or legs for this.  Instead Dave and I ended up doing the entire loop by accident. I never fully appreciated what the phrase 'death by a thousand cuts' meant until I rode the Mortirolo.  There is no one knockout blow or stretch of the climb which particularly stands out – all of it is brutal and chips away at the legs and soul.  Looking up ahead to see kilometer after kilometer of 10+ percent road with no sign of remission is dispiriting.  The climb from Mazzo is 12.4km long at an average of 10.5 percent, maximum gradient of 18 percent and a height gain of 1,300m.  However, this does not tell the whole story as the last 1.5km is fairly shallow, maybe 5 percent average so the 'moral' average is well above 10.5 percent.  Attempting this climb with 39×27 was a challenge.
When we rode the Mortirolo we had the good fortune to have closed roads on the ascent and descent as riders from the Tour Trans Alp (a week long amateur event starting in Germany) were on the Mortirolo at the same time.  Seeing the suffering on the faces of other riders was not enjoyable and one lady sounded like she was giving birth on the bike as she pedaled along.  After such a gruesome ascent, one expects something significant at the top of the climb (perhaps a bevy of comely maidens on hand to mop one's brow) but in reality, it is barely heralded: just an unremarkable wooden sign saying the name of the climb and the altitude.  Since we couldn't descend back to Mazzo we thought we could descend with the Trans Alp riders and somehow loop back to Bormio.  What an awesome descent it was  –  closed roads meant we could pick proper lines on the way down.  Once descended, we unintentionally found ourselves heading towards Ponte di Legno rather than to Bormio.  The only way to Bormio was back across the Gavia.  Dave was certain that I'd stitched him up but this was not the case!  After lunch in Ponte di Legno, we climbed back across the Gavia and descended back to Bormio.
Day 6: Bormio, Torre di Fraele-Canaco, Bormio, Bormio 2000, Bormio [48km]
Insofar as two climbs to 2,000m can be enjoyable and restful, these were.  After our unintended excursion on the preceding day, we decided to take it easy on Day 6.  The climb to Torre di Fraele was one of the most visually stunning and a nice steady leg-opener.  Over 14km, the average uphill gradient is 6.9 percent and the altitude gain is just under 800m.  This climb traces the German Imperial Way, used by medieval caravans to bring wine from Italy to trade for salt in central Europe.  The view from the tower at the top of the climb is outstanding.  We then descended back to Bormio and finished up with a climb to the ski station at Bormio 2000.  This climb is 10km long, with an average gradient of 7.2 percent and a gain of 730m.  A very steady climb through the forest on fairly patchy roads but unfortunately not rewarded by a nice vista at the top.
Some Practical Considerations
Car rental is very expensive in Italy, particularly if you are hiring for a week or more. Additionally, driving from Milan to Bormio is not a whole lot of fun due to the state of roads on the second part of the journey: endless 10km+ long and narrow tunnels with only two lanes (one in each direction and no central division).  If you are in a group, it is cheaper to hire a driver/minibus to take you from Milan to Bormio and back (this is what other cyclists did).  For your rest day, you can consult the local bus timetable for trip options.  Whatever you do, don't be tempted to opt for a diesel vehicle – particularly one which rolls like a beaten-down three-legged mule (like we did…).
Hotels. Bormio has many great bike hotels (specifically catering to cyclists with workshops, secure storage and free overnight laundry).  We stayed in the excellent Hotel Alu.  I cannot ever recall staying in such a well-run hotel.  Alu has secure storage, a workshop and a good supply of maps available to cyclists.  Another great option is Hotel Funivia, which in addition to the usual storage and workshop, also employs two cycling guides to take guests on local climbs and has a support bus to carry jackets, packed lunches, etc.  In Hotel Alu guests were split fairly evenly between those in lycra with skinny tires (and waists) and those in leather with fat tires (and fatter waists).
Bormio has a few good bike shops where it is possible to hire bikes and have repairs carried out on the go, but unlike places such as Bourg d'Oisans, cycling does not completely dominate the town.  Dave hired a Trek from one local bike shop but had endless envy of the guests from Hotel Funivia who were able to hire nice shiny (and light) Pinarellos.  I brought my own bike.
You will eat like a demon, partly to replenish expended calories, and partly because Italian food is outstanding and incredibly fresh. Italian ice cream is not to be missed, and I can categorically disprove the French old wives' tale that eating ice cream whilst cycling causes a 'bad stomach.'  It's what got me up the Stelvio! Hotel Alu had the most amazing breakfasts and suppers each day.  Whilst I may not have ridden with the aplomb of Anquetil, I certainly did dine with with his pre-race abandon.
It is best to avoid some of the landmark climbs such as the Gavia and Stelvio on weekends due to car and, more particularly, motorbike traffic.  There was a massive difference between riding the Gavia on a Sunday and during mid-week.  One of the off-bike highlights of the trip was witnessing a leather-clad, shaven-headed, rotund biker having to be consoled mid-morning at our hotel by two of his female posse because he was too scared to go back up the Gavia for a sightseeing exercise with the other bikers in his group.  He didn't feel safe descending all of those bends at speed on a big motorbike.  Try doing that at 70kmph on something which weighs practically nothing, has only 23mm of contact with the road, without any bodily protection, all while having to factor in traffic from bikes and cars.  I subsequently found out that to get back to their original departure point, the entire troupe of bikers and their molls had to take a massive detour around the scary and bendy mountain roads, vastly increasing their journey time. Chapeau!
Excellent riding guides and route plans are available from the people at  www.altavaltellina.eu and  www.altarezia.eu.  These conveniently-sized guides are available in all hotels and mean that you do not need to hire a guide at any point, and will have at least a week of itenaries at your disposal.  Bormio is perfectly situated insofar as all roads from there lead to a climb to somewhere and the signage is excellent.
Italy uses the Euro, although if you are planning on making this trip in 2012, who knows what the economic and political landscape of Europe will look like?  It is always prudent to carry some form of official ID with you when riding just in case you stray across a frontier – particularly if Switzerland seals all of its borders (the urban myth being that Switzerland can deploy to close all its border crossings at any time on 30 minutes notice…).
In summary, this was an excellent week of cycling.  The weather was perfect: 27-31 degrees celsius each day.  Dave was great company and we met many other interesting cyclists on the road.  If you tried France and want a bit more of a challenge and bang for your buck, then Bormio is the place for you.  Each climb is just a little bit tougher and the guys you meet out on the road are just a little bit more hardcore than you will find in France.  Avanti!